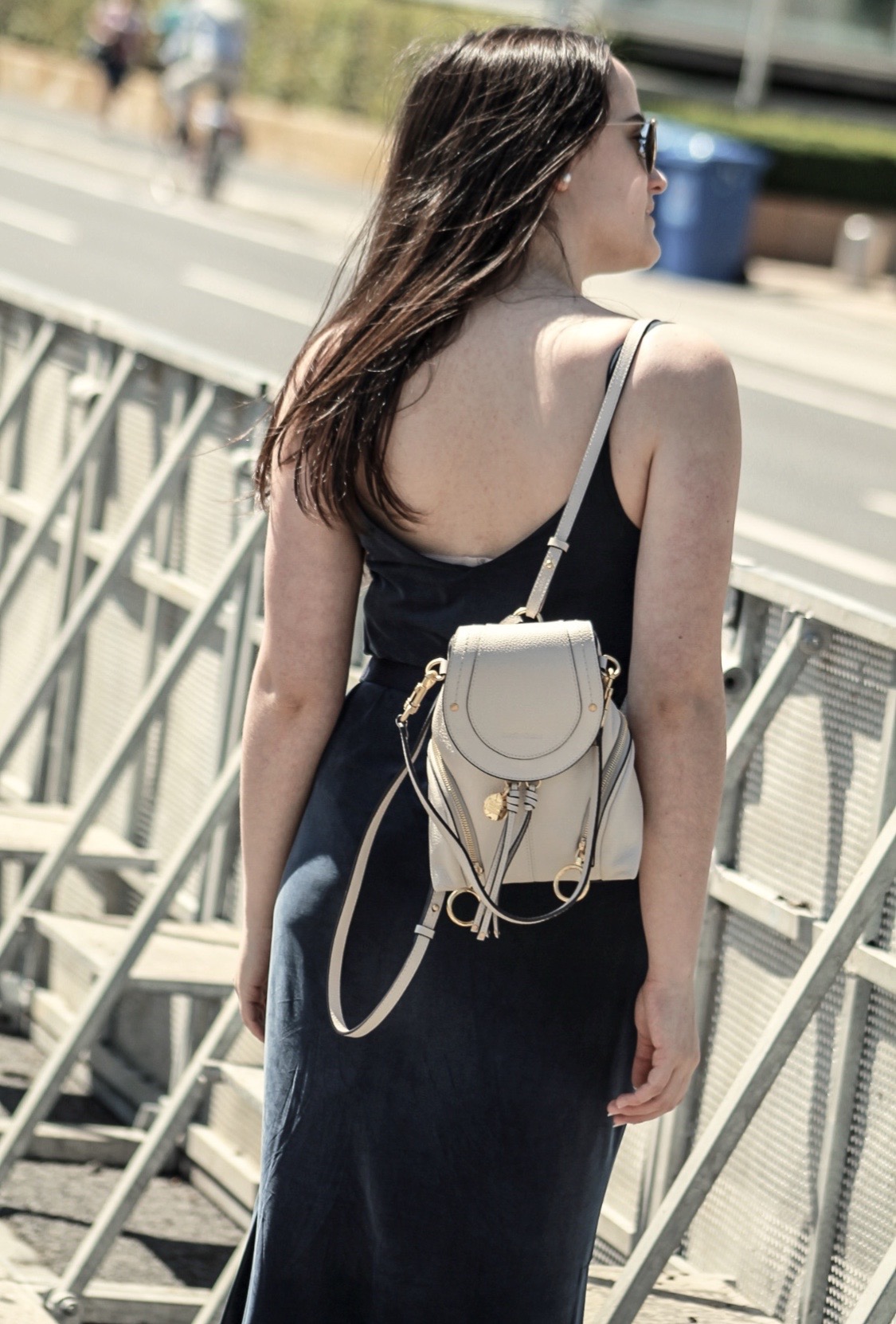 Hey, j'espère que ça va bien et qu'après cette longue période d'examens, vous avez pu enfin un peu souffler. Et que vous êtes prêts pour la prochaine et longue étape que seront les soldes (et oui elles arrivent enfin !!).
Je vous retrouve donc avec un look que je trouve assez relax, estival et qui est composé de plusieurs pièces assez sympa qui ont fait leur grand retour parmi nous.
Je porte ici une robe (grossss coup de coeur) mi-longue qui s'arrête niveau chevilles et qui est fendu des deux côtés. Elle est juste incroyableeee: sa couleur, sa matière qui est juste dingue et super confortable, elle épouse parfaitement les formes du corps. En plus, elle est peut très bien être portée journée comme ici ou en soirée avec paire d'escarpins par exemple.
Avec, je porte ces baskets qui sont super et dérivent un peu des « Balenciaga triple s » comme beaucoup d'autres modèles depuis que ces dernières sont sorties et ont fait l'unanimité chez les fashonistas. Malheureusement, leurs prix étant un peu trop « fashion » aussi, c'est un bon compromis je trouve si on ne veut pas investir une certaine somme.
J'ai ceinturé ensuite cette robe avec une banane bleu marie qui a fait son grand retour dans la sphère de la mode et qui est l'accessoire incontournable à avoir dans sa garde robe cet été. A associer de différents manières et prête à remplacer le sac à main, elle est tout aussi pratique qu'indispensable (mais ici, je la porte simplement comme accessoire « ceinture »).
Et pour compléter le look je porte un blazer bleu marine ample et cette petite merveille de sac à dos version mini Chloé qui est une tuerieeee, franchement je l'adore et je ne vais surement pas le quitter de l'été. Son modèle est parfait, ses détails et sa couleur beige/blanc cassé en cuir avec ses finitions en or sont dingues (trop contente de cette trouvaille).
                                             ∼ ∼ ∼ ∼ ∼ ∼ ∼
Hey, I hope you're okay after this long period of exams, you could finally blow a little. And that you are ready for the next and long stage that will be the sales (and yes they finally arrive!).
So I find you with a look that I find quite relaxed, summery and  who is composed of several nice pieces that have made their comeback among us.
I wear here a mid-length dress (biggg crush) that stops peg level and is split on both sides. She is just incredible: her color, her material that is just crazy and super comfortable, she perfectly fits the shapes of the body. In addition, it may very well be worn day as here or in the evening with a pair of shoes for example.
With, I wear these sneakers that are great and drift a little « Balenciaga triple s » like many other models since the latter came out and were unanimous among fashonistas. Unfortunately, their prices being a little too « fashion » too, it is a good compromise I find if we don't want to invest a certain amount.
Then, I belted this dress with a blue marie banana that made its comeback in the sphere of fashion and is the must-have accessory to have in his wardrobe this summer. To associate in different ways and ready to replace the handbag, it is just as practical as it is indispensable (but here, I simply wear it as a « belt » accessory).
And to complete the look I wear a wide navy blue blazer and this small marvel of backpack mini version Chloé is a killer, I really love it and I will certainly not leave it of the summer. His model is perfect, its details and its beige / off-white leather color with its gold finishes are crazy (too happy with this find).
                                                       ∼ ∼ ∼ ∼ ∼ ∼ ∼
SHOP THE LOOK→ Robe Massimo Dutti (Size M) ♦ Baskets Zara (Size 39) ♦ Banane Longchamp bleu marine (old co) ♦ Blazer bleu marine H&M (old co) ♦ Sac à dos Chloé (couleur différente)