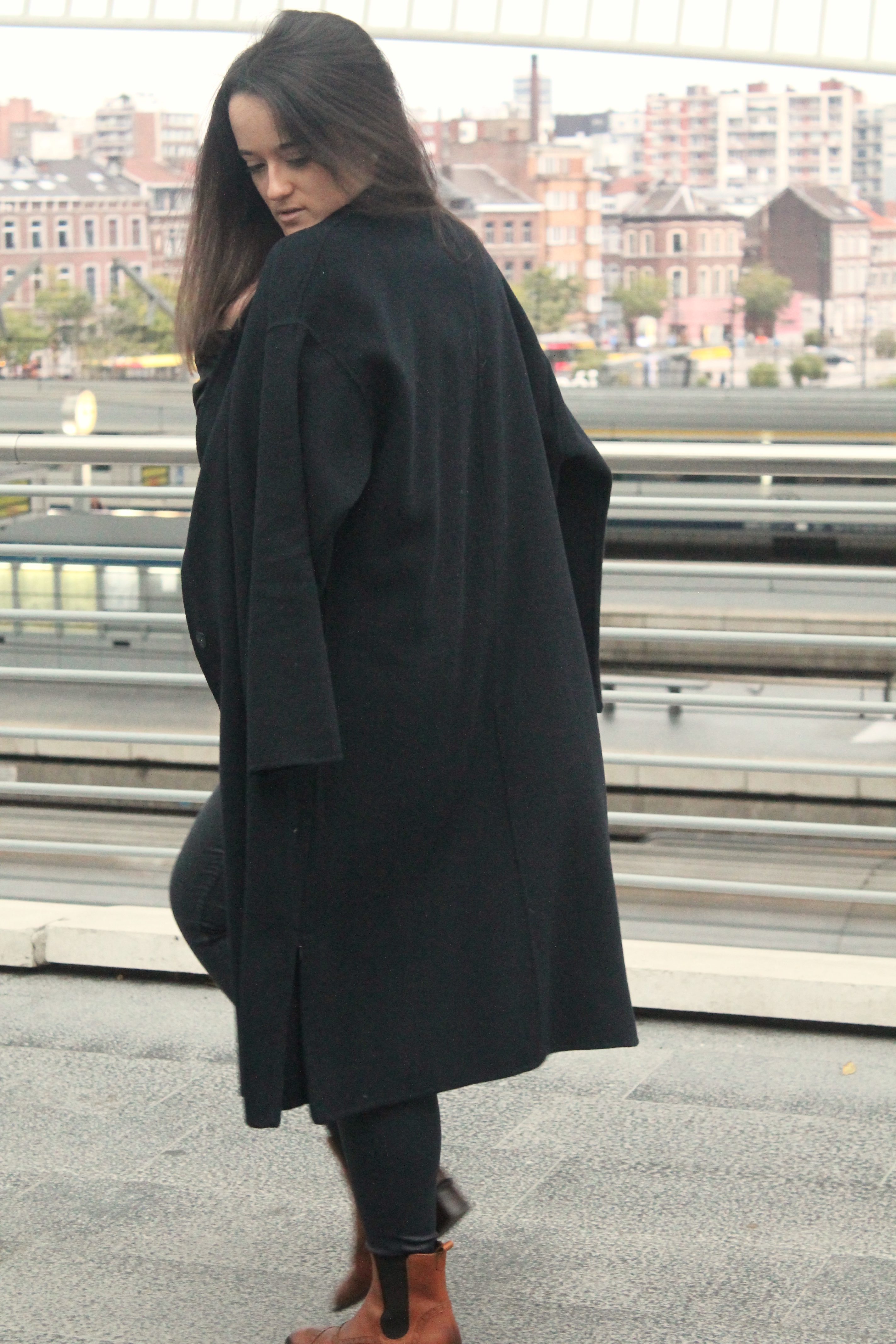 Cette semaine, je vous retrouve avec un look un peu plus basique mais qui reste cependant parfait pour cet automne et que j'aime tout autant pour sa simplicité et son efficacité (car nous savons très bien que le noir est toujours une valeur sûre, simple et efficace !!).
Ici, la pièce « phare » de ce look est ce long gilet noir (style manteau fluide en laine)  qui fait office de manteau et que je porte sur les épaules pour donner une touche un peu plus travaillée.
Depuis quelques temps maintenant, il s'agit d'une des tendances que l'on voit un peu partout et qui consiste donc à prendre à long gilet (de préférence long et un peu plus chaud qu'un simple gilet) et à le porter à la place d'un manteau (parfait pour l'automne).
Ainsi il est plus facile à associer et peut apporter une touche décontractée, habillée ou décalée,…à vos looks suivant la façon dont vous le portez. Bref une multitude de possibilité vu ses facilités à l'associer et qui nous change un peu des nos gros manteaux en général ( en gros j'adore, j'approuve et j'adopte cette tendance).
Avec, j'ai décidé d'y associer des pièces assez simples pour compléter l'ensemble avec un chemisier noir satiné, un pantalon bleu marine effet « ciré », ma ceinture Gucci et ma paire de boots Chelsea brune (qui je trouve est un bon modèle classique associable avec tout) qui apporte une petite touche de couleur à la tenue !!
                                     ∼ ∼ ∼ ∼ ∼ ∼
This week, I find you with a look a little more basic but still perfect for this fall and I like it just as much for its simplicity and efficiency (because we know very well that black is always a safe bet, simple and effective ! ).
Here, the « lighthouse » piece of this look is this long black vest (style fluid woolen coat) that acts as a coat and that I wear on the shoulders to give a touch a little more worked. For some time now, this is one of the trends that we see everywhere and that is to take long vest (preferably long and a little warmer than a simple vest) and wear it instead of a coat (prafait for autumn). So it is easier to associate and can bring a casual touch, dressed or shifted, … to your looks depending on how you wear it. In short a multitude of possibilities because of its facilities to associate and that changes a bit of our big coats in general (basically I love, I approve and I adopt this trend).
With, I decided to combine simple enough pieces to complete the set with a satin black blouse, a navy blue trousers effect « waxed », my Gucci belt and my pair of brown boots Chelsea (which I think is a good classic model associable with everything) that brings a touch of color to the outfit !!
                                   ∼ ∼ ∼ ∼ ∼ ∼ ∼
SHOP THE LOOK→Gilet/manteau (Size S, similaire) ♦ Chemisier noir (Size M, similaire) ♦ Jeans effet « ciré » (Size M, similaire) ♦ Bottines Chelsea (Size 40) ♦ Ceinture Gucci (Size 85) ♦ Cabas Vanessa Bruno noir