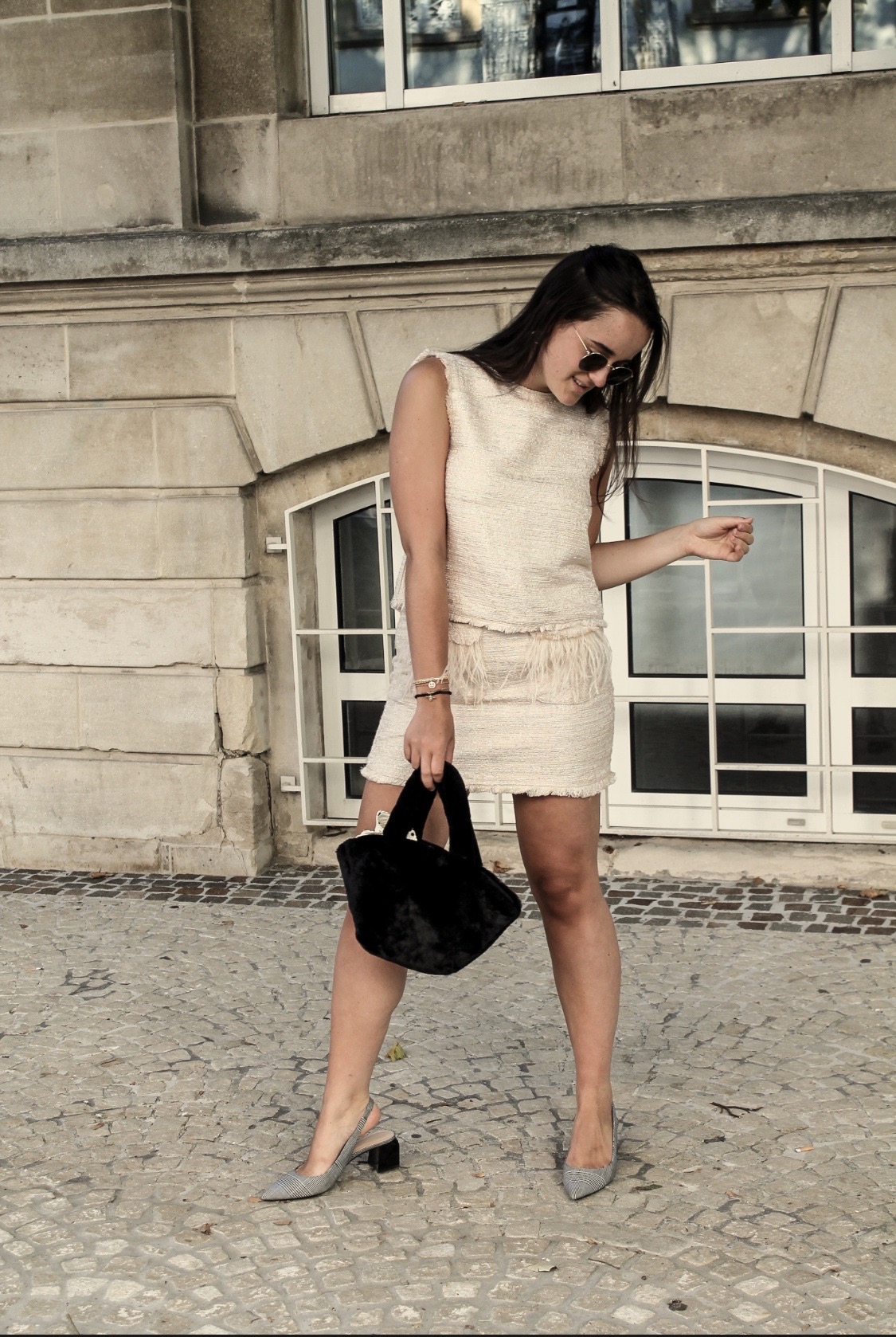 Pour cette semaine, je vous retrouve avec un look assez simple et basique (que j'aurai du shooter il y a un petit temps) mais qui reste cependant parfait pour une sortie ou un rendez-vous.
Il s'agit en effet d'oser le total look en accordant son haut et bas. Bien que beaucoup de personnes optent généralement pour dépareiller le tout, ce qui en général est une option garantie. J'ai décidé d'oser l'ensemble (top et jupe qui ont des petits airs de « Chanel ») et de l'adopter jusuq'au bout pour une sortie matinale, et je dois dire que le résultat est à tomber.
Avec j'ai opté pour une paire d'escarpins à bouts pointu (trouvée en soldes cet été) et qui redonne une touche de féminité en plus au look pour aller au bout des choses côté classique. Mais il peut tout aussi bien être décalé avec une paire de baskets blanches, ce qui ferait aussi parfaitement l'affaire pour un style un peu plus « sportwear » et relax tout en restant élégante. Pour ce qui est des accessoires, je porte ma paire de boucles d'oreilles vintage (que je ne quitte plus tellement je les adore), mes bracelets Swarovski et Mya bay et mon petit sac noir en fourrure de l'hiver dernier. Et pour ne pas changer, ma paire de Ray-ban de soleil que je ne quitte plus non plus depuis un an.
Ce qui me donne donc, un super look d'été et tout ça grâce à des pièces (presque toutes) « recyclées » et qui malheureusement ne font plus parties de ces collections mais dont vous pouvez toujours vous en inspirer !!
                                            ∼ ∼ ∼ ∼ ∼ ∼ ∼
For this week, I find you with a simple and basic look (that I will have  shooter a while ago) but still perfect for an outing or an appointment.
It is indeed to dare the total look by tuning up and down. Although many people usually opt to mend everything, which in general is a guaranteed option. I decided to dare the whole (top and skirt that have little airs of « Chanel ») and adopt it until the end for a morning out, and I must say that the result is perfect.
With I opted for a pair of point-toe pumps (found in sales this summer) and that gives a touch of femininity and more to the look to get to the end of things classic. But it can also be shifted with a pair of white sneakers, which would also perfectly fit for a style more « sportwear » and relax while remaining elegant. As for accessories, I wear my pair of vintage earrings (which I do not leave so much I adore them), my Swarovski bracelets and Mya bay and my little black fur bag from last winter. And not to change, my pair of Ray-ban de soleil that I do not leave either for a year.
Which gives me a great summer look and all this thanks to some (almost all) « recycled » pieces that unfortunately are no longer part of these collections but you can still get inspired!
                                            ∼ ∼ ∼ ∼ ∼ ∼ ∼
SHOP THE LOOK→ Top Zara (old co, Size M) ♦ Jupe Zara à plumes (old co, Size M) ♦ Escarpins à bout pointu Mango (Size 39, similaire) ♦ Bracelet couleur « or » Mya bay (One Size) ♦ Bracelet « or » Swarovski collection remix (One Size) ♦ Sac noir en fourrure (Old co) ♦ Lunettes de soleil Ray-ban