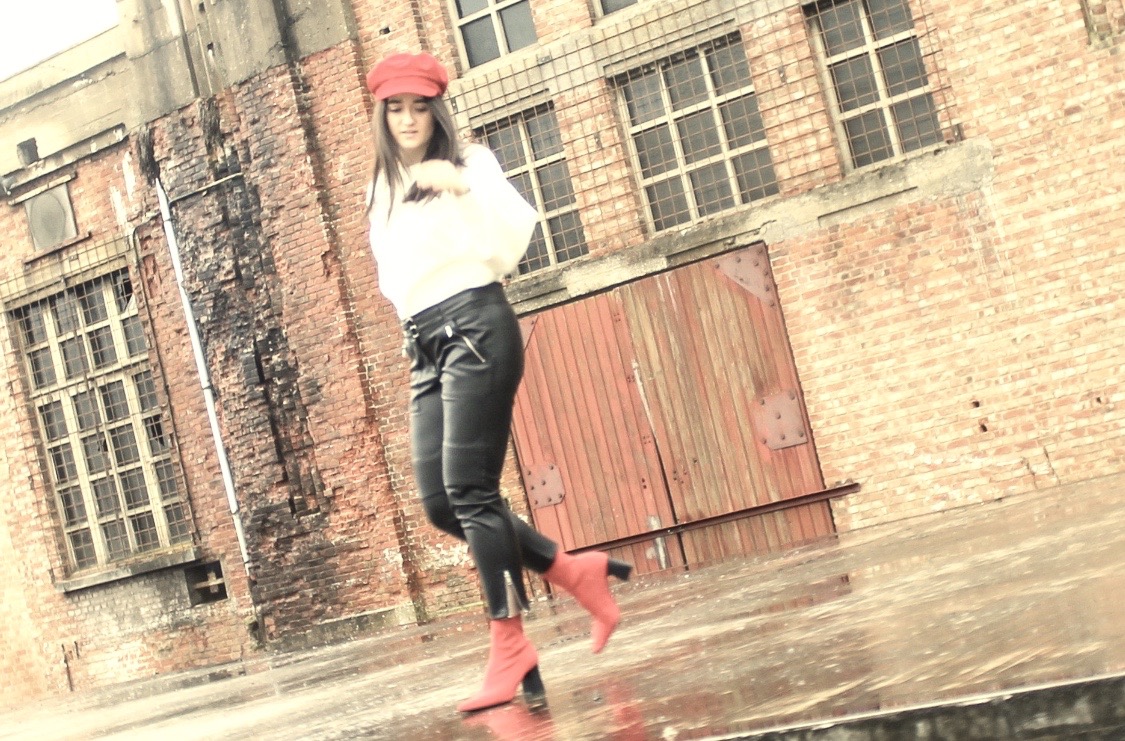 Hey je vous retrouve enfin avec un nouveau look sur le blog. Ou plutôt qui date de quelques semaines quand je l'ai shooté (haha oups) mais que je n'ai pas eu le temps de poster avant et qui clôture un peu cet hiver.
Tout d'abord je dois que je l'adore surtout pour les pièces qui le composent et qui sont assez « fortes » quand on les prends séparément. Mais la pièce principale de cette tenue et que j'aime tout particulièrement, se sont ces red boots qui sont juste canonnn et encore plus portées!!!!
Elles ont fait sensation cet hiver, et on les a aperçu porté de tout les manières possibles que se soit sou formes de boots ou cuissardes, le rouge a donné le ton. Parmi d'autres couleurs flashys qui ont apporté une petite touche de gaieté, d'audace à nos tenues d'hiver généralement assez sombres et basiques ce qui n'était pas le cas cet hiver, car la couleur était à l'honneur.
Bien sûr, je sais que c'est une couleur assez « forte » a porté et que beaucoup n'oseront pas porter surtout au pieds par peur de ne voir que ça. Voilà pourquoi je pense qu'il vaut mieux opter alors pour une paire de boots que de cuissardes et si jamais trouver un rouge un peu moins flashy pour se sentir plus à l'aise avec. Mais perso moi j'adore et je vous conseille de tester aussi!!!
Avec j'ai décidé d'y associer un pantalon en simili cuir (pièce « forte » mais qui reste avant tout basique et indispensable à avoir dans sa garde-robe) que j'ai depuis un petit temps et que je trouve plutôt sympa, surtout pour ces détails vers le bas. Ensuite je porte un pull blanc basique et ample mais très confortable que j'adore car je trouve la qualité top et ma petite casquette gavroche rouge en velours qui est parfaite pour compléter ce look même si cela rappelle les chaussures, je trouvais cela pas mal !!!!
                                          ∼ ∼ ∼ ∼ ∼ ∼ ∼
Hey I finally find you with a new look on the blog. Or rather that dates from a few weeks when I shot it (haha oops) but I didn't have the time to post before and that closed the season of winter .
First of all I have to adore it especially for the parts that compose it and that are quite « strong » when we take them separately. But the main piece of this outfit and that I particularly like, are these red boots that are just too hot and even more worn! They made a sensation this winter, and on a glimpse of all the possible ways that is to form boots or waders, the red has set the tone. Among other colors, there was a touch of cheerfulness, daring in the winter and quite low and basic which was not the case this winter, because the color was in the spotlight. Of course, I know it's a pretty « strong » color that has worn and that many will not dare wear especially to the foot for fear of seeing only that. That's why I think it's better then opt for a pair of boots than waders and if ever find a little less flashy red to feel more comfortable with. But personally I love and I advise you to test too!
With I decided to combine leather pants, which I have a little time and I find it rather nice, especially for these details down. Then I wear a white basic sweater and ample but very comfortable that I love because I find the top quality and my little red velvet cap that is perfect to complete this look even if it reminds the shoes, I found it not bad! !!!
                                          ∼ ∼ ∼ ∼ ∼ ∼ ∼
SHOP THE LOOK → Red boots Zara (Size 40) ♦ Pull h&m blanc (Size S, similaire) ♦ Pantalon en cuir Mango (Size M, old co) ♦ Casquette gavroche rouge en velours Zara (Size M)