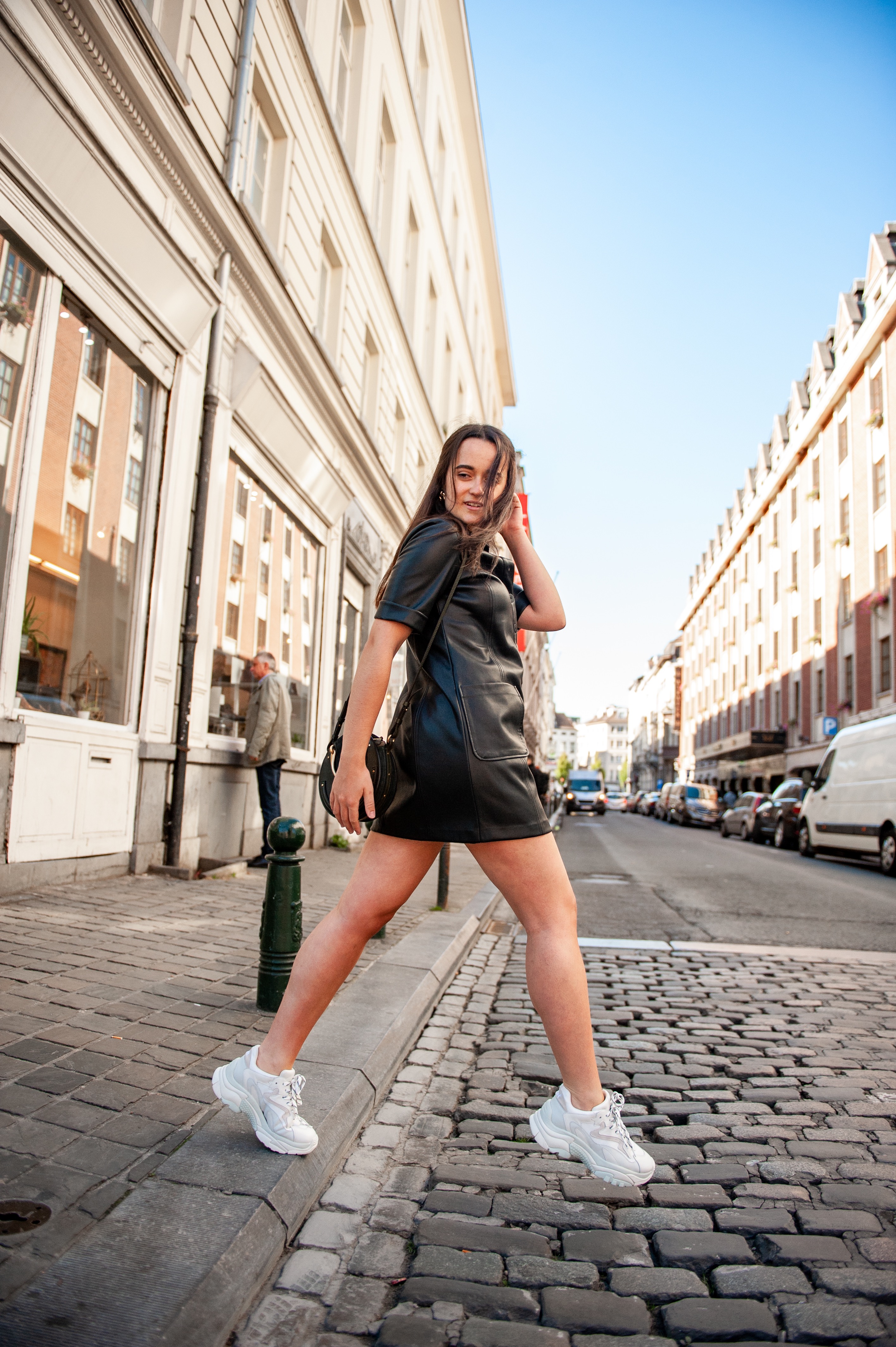 Cela fait un petit temps maintenant que je n'avais plus posté niveau look, par manque de temps fin septembre/début octobre (et oui avec la rentrée universitaire, les cours, mon annif, …) j'étais un peu, voir beaucoup occupée. Mais pas de problème car je reviens en force maintenant, avec des looks shooté d'il y plus d'un mois au moins (mais) qui concordaient parfaitement avec cette transition vers cet automne (qui fut quand même assez chaud ces débuts)
Pour ce retour sur le blog je reviens d'abord avec un look assez simple niveau pièces mais qui fait parfaitement l'affaire. J'avais donc craqué pour cette rentrée pour la « petite robe noire » mais la pièce classique que l'on retrouve à ses habitudes dans le dressing. Non cette fois j'ai pris l'option CUIR (haha). Je la trouve incroyable (gros crushhhh),franchement je peux vous dire que le prix pour cette qualité est tout à fait raisonnable et puis cet hiver l'une des tendances à porter est bel et bien le cuir. Et donc pour changer de la petite jupe habituelle en cuire je me suis dis que la robe était parfaite.
Aux pieds, je porte mes Ash (qui sont des « superbes dupes » des Balenciaga Triple s que l'on voit depuis un petit moment maintenant) que j'adore et pour lesquelles j'ai totalement craqué lors de leur découverte à un event. Certes ce modèle peut sembler un peu encombrant par rapport à une paire « basique de Stan smith ou Converse » mais comme on a vu précédemment la mode a bel et bien fait son grand retour avec le « gros, massif et volumineux » niveau shoes.
Et comme sac je porte cette petite merveille (dont je rêvais depuis un petit temps déjà) que j'adore pour sa forme, son originalité, sa couleur et ses finitions qui sont d'une qualité incroyable.
                                              ∼∼∼∼∼∼∼
It's been a while now that I had not posted a level look, for lack of time late September / early October (and yes with the start of the academic year, courses, my year, …) I was a little, even a lot busy . But no problem because I come back now, with looks shot of at least a month ago and that matched perfectly with this transition to this autumn (which was still quite hot in recent days).
For this return to the blog I come back first with a fairly simple level parts but that is perfectly fine. So I had a crush on this autumn for the « little black dress » but the classic piece that we find in her habit in the dressing room.Not this time I took the option LEATHER (haha) .I find it incredible (big crushhhh), frankly I can tell you that the price for this quality is quite reasonable and then this winter one of the trends to wear is indeed the leather.And so to change from the usual little skirt to cook I told myself that the dress was perfect.                                                                                                                                                      At the feet, I wear my Ash (which are « superb dupes » Balenciaga Triple s that we see for a while now) that I love and for which I totally cracked during their discovery at an event. Certainly this model may seem a bit bulky compared to a pair of « basic Stan smith or Converse » but as we have seen previously the fashion has indeed made a comeback with the « big, massive and bulky » level shoes.                                       And as a bag I wear this little wonder (which I've been dreaming for a while now) that I love for its shape, its originality, its color and finishes that are of incredible quality.
                                          ∼∼∼∼∼∼∼
SHOP THE LOOK→ Robe imitation cuir Zara (Size M) ♦ Boucles d'oreilles texturées Zara ♦ Baskets Ash (Size 39) ♦ Chloé Pixie bag (Small)