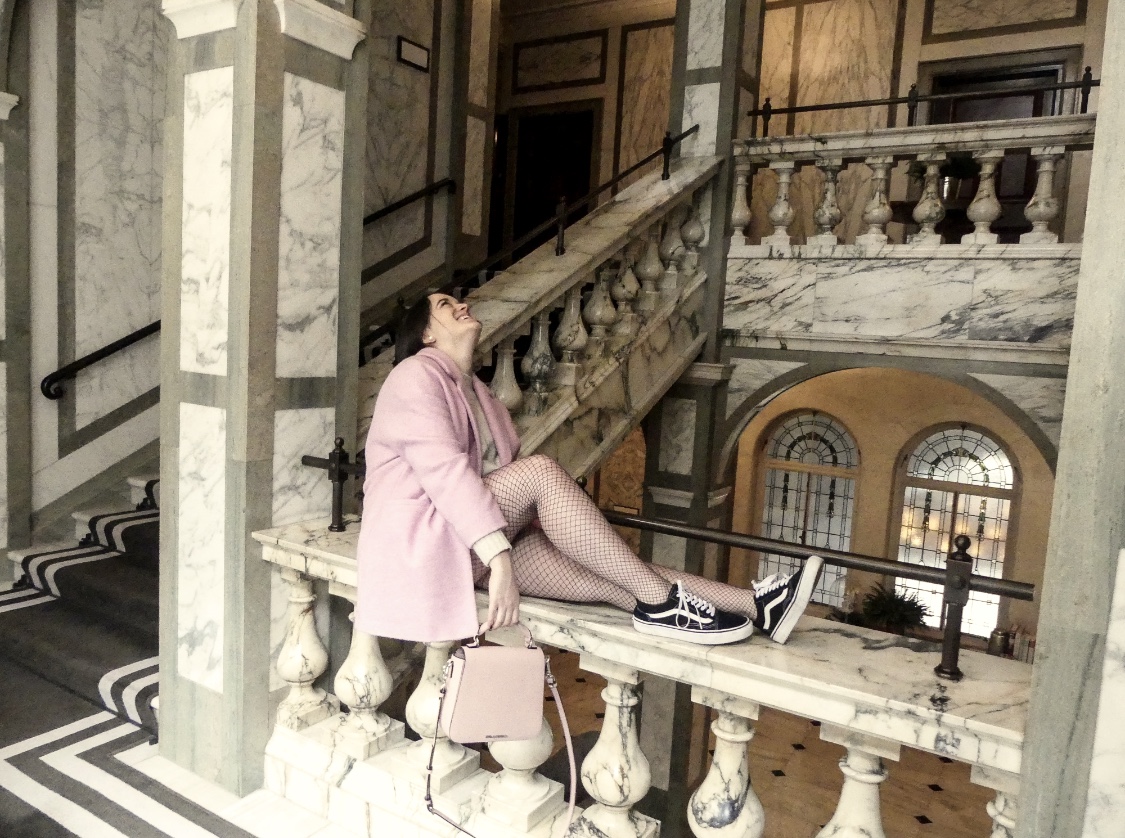 Désolé pour l'attente, mais je vous retrouve cette semaine enfin avec mon dernier look shooté à Londres.
Pour ce look, j'ai opté pour une tenue un peu plus légère et girly niveaux couleurs et qui je trouve est assez sympa le tout combiné.
Je porte ici cette fameuse jupe argenté que vous avez déjà vu auparavant et que j'adoree pour sa touche d'originalité et de couleur qui change d'habitude.
Avec j'y ai associé un gros pull basique dans les tons de beige mais qui tient bien chaud et qui je trouve se marie bien avec l'ensemble, une paire de bas résille et une paire de van's old school pour décaler un peu le tout.
Et pour rehausser le tout, j'ai décidé d'y ajouter ce manteau rose bonbon trouvé lors des soldes et qui est juste canon. Il apporte la parfaite « petite touche » de couleur nécessaire pour l'hiver et en fait la pièce maîtresse de cet ensemble d'ou mon choix d'y associer des tons plus neutres avec. Petite touche rose en plus , ce petit sac trop cute de chez Karl Lagerfeld et qui s'accorde parfaitement avec le tout et bien que petit reste assez pratique et peu encombrant.
                                                ∼ ∼ ∼ ∼ ∼ ∼ ∼
Sorry for the wait, but I find you this week finally with my last look shot in London.
For this look, I opted for a slightly lighter and girly colors and which I think is quite nice all combined. I wear here the famous silver skirt that you have already seen before and that I adore for its touch of originality and color that changes of habit.
With I have associated a big basic sweater in shades of beige but which is very warm and I find it goes well with all, a pair of fishnet stockings and a pair of old school van's to shift a little .
And to enhance it all, I decided to add this sweet pink coat found at sales and is just cannon. It brings the perfect « little touch » of color necessary for the winter and makes it the centerpiece of this set of or my choice to associate more neutral tones with it. Small touch pink and more, this little bag too cute Karl Lagerfeld and that fits perfectly with everything and although small is quite practical and compact.
                                                    ∼ ∼ ∼ ∼ ∼ ∼ ∼
SHOP THE LOOK→ Manteau rose Mango (similaire, Size S) ♦ Jupe argenté (old co, Size M) ♦ Pull beige Zara (similaire, Size S) ♦ Tights Calzedonia (Size M) ♦ Van's old school (Size 40) ♦ Sac Karl Lagerfeld (similaire)