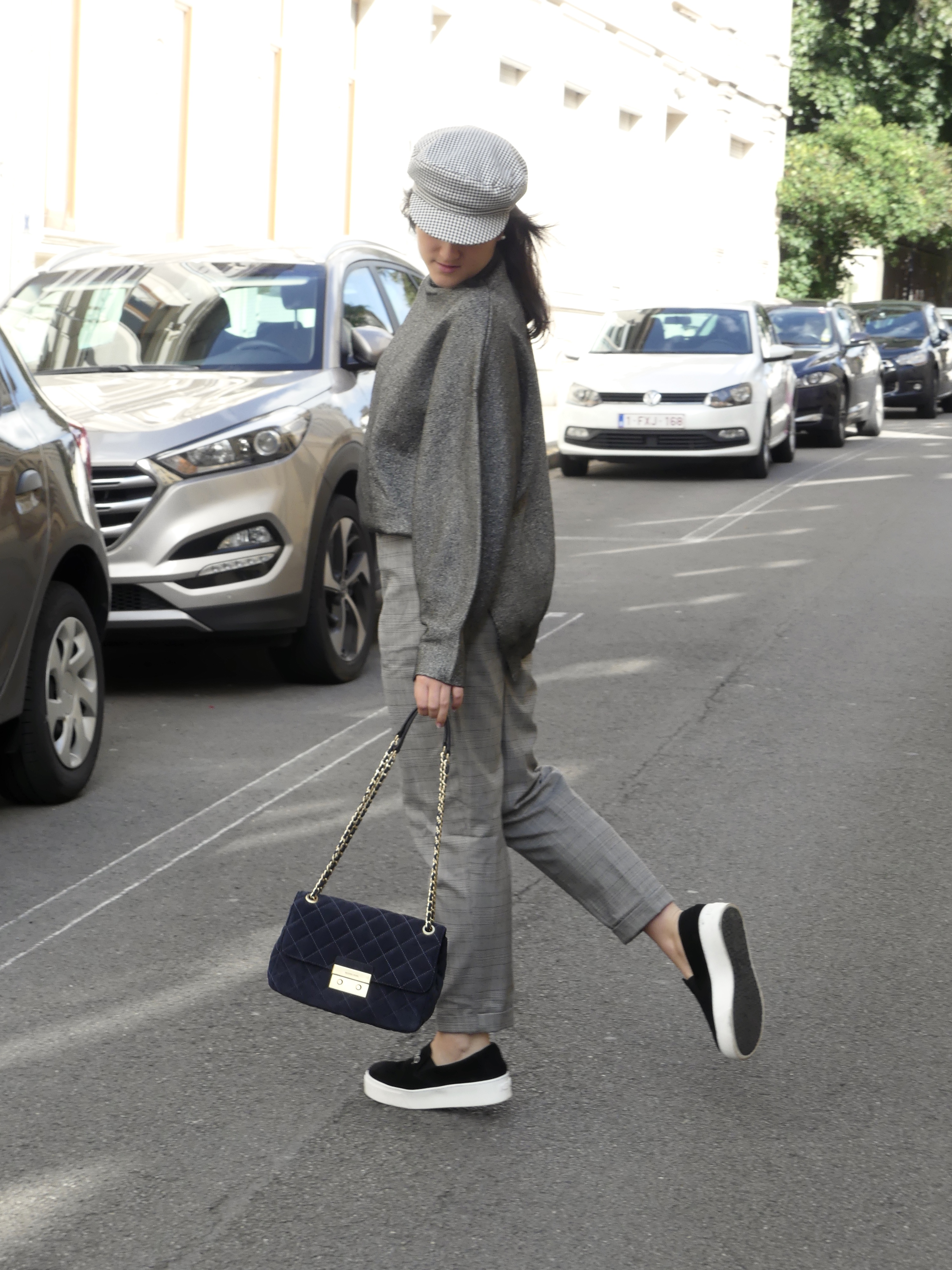 Hello girls, aujourd'hui je vous retrouve pour une semaine un peu plus chaude que la précédente avec un nouveau look que j'aime tout particulièrment mais qui reste tout en sobriété avec ses couleurs et son imprimé qui revient en force cette saison . Il s'agit de l'imprimé Prince de Galles, qui selon moi est un indispensable à avoir dans sa garde de robe cette saison !!
Dans ce look aux différentes  « nuances de grey » (pas entièrement, haha), j'ai donc opté pour un pull gris « effet brillant » avec un pantalon imprimé Prince de Galles qui est la pièce phare de ce look. Je trouve qu'il est juste top et j'adore ces petits détails de fermeture au niveau de la taille qui changent un peu d'un modèle  basique donc comment ne pas craquer ?! Avec j'ai décidé d'y associer une paire de Kenzo classique, un petit sac en daim bleu et un style de casquette marin (qui revient fortement cet hiver)…et oui avec un imprimé qui ressemble à celui Prince Galles mais qui ne l'est pas et qui perso j'adore car il se marie parfaitement avec ce look je trouve ( bien sûr il faut aimer pour oser la porter car j'avoue qu'au début j'étais partie pour une classique noire mais après avoir trouvé celle-là je ne la quitte plus) !!
                                                    ∼ ∼ ∼ ∼ ∼ ∼ ∼ ∼ ∼
Hello girls, today I find you for a week a little warmer than the previous with a new look that I particularly like but still sobriety with these colors and its printed that comes back strong this season. This is the print Prince of Wales, which in my opinion is an indispensable to have in his wardrobe this season !!
In this look with different « shades of gray » (not entirely, haha), I opted for a « shiny effect » grey sweater with print Prince of Wales pants that is the flagship piece of this look. I think it's just top and I love those little closure details at waist levels that change a bit from a basic model so how not to crack ?! With I decided to associate a pair of classic Kenzo , a blue suede bag and a style of marine cap (which returns strongly this winter) … and yes with a print that looks like the Prince Galles but is not and that why I love it because it blends perfectly with this look I find (of course you must love to dare to wear it because I admit that at the beginning I went for a black classic but after I found this one I don't leave it anymore) !!
                                                      ∼ ∼ ∼ ∼ ∼
SHOP THE LOOK→Pull H&M (size S) ♦ Pantalon H&M (size M, similaire au mien) ♦ Chaussures KENZO (old co size 39) ♦ Sac Michael Kors (old co) ♦ Casquette Zara (size M)