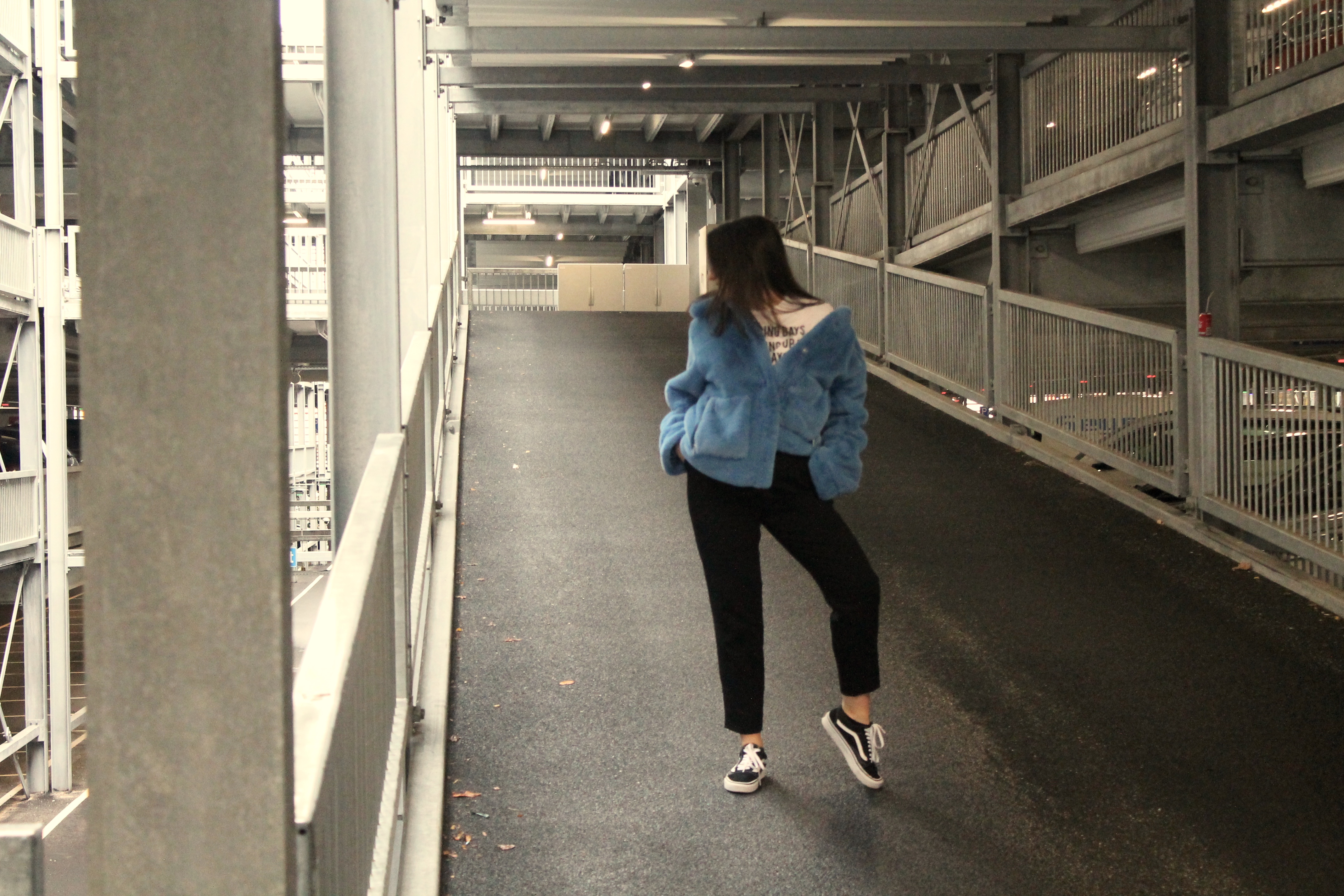 Hey, cette semaine je vous retrouve avec un look que j'aime beaucoup car il est composé avec l'une de mes pièces préférées de cet hiver !! Je parle bien sûr de cette veste fausse fourrure qui ne cesse de se réinventer d'années en années et qui ici, apparaît en couleur.
C'est l'une des pièces phares des modeuses de cet hiver, un indispensable qui se décline aussi bien en noir, brun, beige (les classiques) mais aussi maintenant en rose flashy, bleu, vert,… Ce qui peut sembler risqué à porter je vous l'accorde, mais pourquoi pas tester un brin de folie hein. En tout cas, c'est ce que j'ai fais perso même si il y a quelques années je me serais largement freinée sur un tel achat mais je dois dire que maintenant je ne le regrette pas !!
L'un des points positif aussi et qui m'importe, c'est que maintenant ces manteaux et vestes fausses fourrures qui font tant fureur comparé à avant ne sont plus que créés à partir de peaux d'animaux ou autres et sont tout autant de bonne qualité tant niveau prix, matière, aspect. Bref un achat qui en vaille la peine en s'assurant bien sûr qu'on la porte car cela reste quand même un investissement donc si vous voulez jouer la carte de la sécurité, optez plutôt pour les classiques (noir, brun, beige).
Avec, je porte mon pantalon (style plus habillé) que j'adore et que je ne quitte plus tellement il est juste confortable et pratique, un t-shirt basique à messages et ma paire de Van's pour décaler un peu ce look et le rendre un peu moins « excentrique » niveau couleur vu la pièce maitresse de la tenue.
                           ∼ ∼ ∼ ∼ ∼ ∼ ∼
Hey, this week I find you with a look that I love because it is composed with one of my favorite pieces of this winter !! Of course, I'm talking about this fake fur jacket that is constantly reinventing itself year after year, and here it appears in color.
This is one of the key pieces of the fashionistas of this winter, an essential that comes in black, brown, beige (the classics) but also now in flashy pink, blue, green, … Which may seem risky  to wear I grant you, but why not test a bit of madness huh. In any case, it's what I did personally even if a few years ago I would have largely slowed down on such a purchase but I must say that now I do not regret it! One of the important points that I care about is that now these fake fur coats and jackets that are so fury compared to before are just created from animal skins or whatever and are just as much of good quality both price level, material, appearance. In short, a purchase that is worthwhile making sure that it is worn because it is still an investment so if you want to play the security card, opt for the classics (black, brown, beige).
With, I wear my pants (style more dressed) that I love and that I do not leave so it is just comfortable and practical, a basic t-shirt with messages and my pair of Van's to shift a little this look and make it a little less « eccentric » level color seen the centerpiece of the outfit.
                            ∼ ∼ ∼ ∼ ∼ ∼ ∼
SHOP THE LOOK →Fausse fourrure similaire (Size 36) ♦ T-shirt similaire (Size M) ♦ Pantalon noir (Size M) ♦ Van's old school (Size 40)