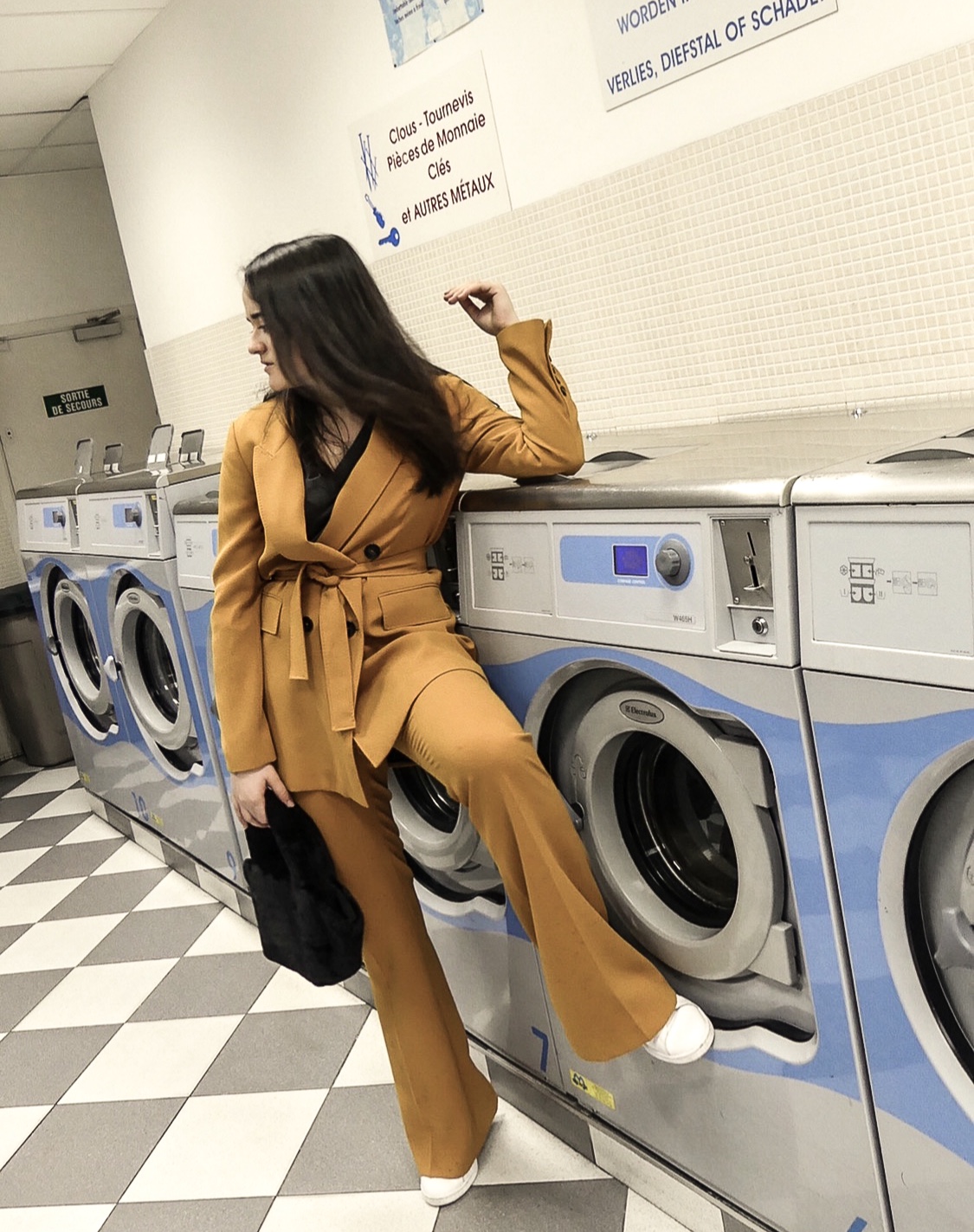 Pour cette semaine ensoleillée, je vous retrouve avec un look tout en couleur et parfait pour ce printemps.
L'une des dernières tendances que je trouve juste canon et à laquelle j'adhère carrément, est le fait de porter un ensemble coloré blazer et pantalon assortis.
Adieu les robes et jupes trop habillées. Et bonjour les ensembles colorées qui sont à la fois simples et efficaces à porter pour être bien habillée lors d'une soirée ou d'un événement important (associé bien sûr à une paire d'escarpins). Ou alors, ils peuvent être aussi porter en journée et être décalé avec une paire de baskets pour donner un côté un peu moins « stricte » au look. C'est aussi un bon compromis pour celles qui ne sont pas fanas des robes et jupes habillées comme ça, plus de problèmes.
Perso, j'ai opté pour le look décontracté en baskets comme vous pouvez le voir. Je porte donc ici cet ensemble blazer et pantalon jaune foncé que je trouve juste dingue. Avec j'ai décidé de mettre une paire de baskets et un petit sac en fourrure qui donne une petite touche décalée à l'ensemble.
Franchement si vous n'avez pas encore opté pour cette tendance je vous conseille vivement de foncer et craquer pour voir la vie en couleur pour cet été!!
                                                  ∼ ∼ ∼ ∼ ∼ ∼ ∼
For this sunny week, I find you with a look all in color and perfect for this spring. One of the latest trends that I find just so hot and to which I adhere flatly, is wearing a colorful blazer and matching pants set.
Goodbye dresses and skirts too dressed. And hello colorful sets that are both simple and effective to wear to be well dressed at a party or an important event (associated of course with a pair of heels). Or, they can also be worn during the day and be shifted with a pair of sneakers to give a side a little less « strict » to the look.It is also a good compromise for those who are not fans of dresses and skirts, like that no more problems.
Personally, I opted for the casual look in sneakers as you can see. So here I am wearing this set dark and yellow blazer and  pants that I find just crazy. With I decided to put on a pair of sneakers and a little fur bag that gives a little offbeat touch to the set.
Frankly if you have not yet opted for this trend I urge you to darken and crack to see life in color for this summer!
                                                     ∼ ∼ ∼ ∼ ∼ ∼ ∼
SHOP THE LOOK → Blazer jaune foncé Zara (Size M) ♦ Pantalon jaune foncé Zara (Size M) ♦ Stan smith (Size 40) ♦ Sac noir en fourrure Zara (old co)