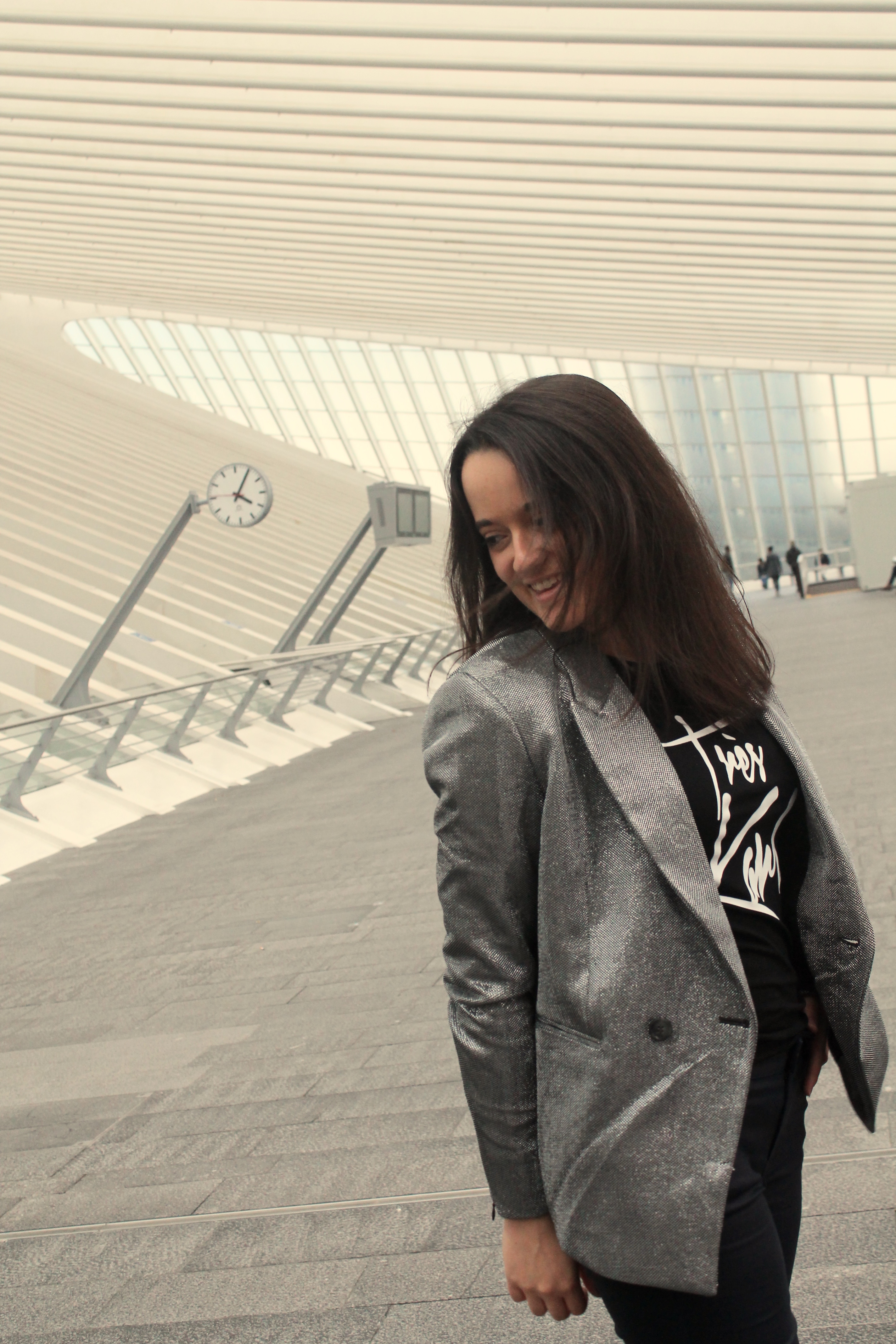 Qui dit début décembre, dit bientôt (ou déjà) l'hiver mais aussi et avant tout les fêtes de fin d'année. L'occasion de faire un brin de folie et de craquer niveau fringues, pour se trouver la tenue idéale que vous n'auriez jamais osé porter durant l'année.
Je vous retrouve donc avec un look que j'aime beaucoup et qui change un peu des tenues festives qu'on a l'habitude de porter.
J'ai donc opté pour un look un peu plus rock'n roll, avec juste sa touche de paillettes et de glamrock qu'il faut pour assurer et briller.
Je porte ici un blazer effet métallique/brillant (gros coup de coeur) et que je pourrais associer avec d'autres looks aussi (donc très pratique), avec je porte un t-shirt noir simple mais dont l'écriture fait la différence «Très Karl » (de Karl Lagerfeld), un pantalon bleu marine et pas noir effet ciré qui redonne une touche un peu plus rock (comme la veste) et une paire de bottillons noire brillante et pointue qui donne cette petite touche pointue justement (haha) et stylée mais qui reste avant tout confortable à porter (très important pour danser toute la soirée )!!
∼ ∼ ∼ ∼ ∼ ∼ ∼
Who says  December, says soon (or already) the winter but also and above all the holiday season. The opportunity to do a bit of madness and crack for clothes, to find the perfect outfit that you never dared to wear during the year.
So I find you with a look that I like a lot and changes a little festive clothes that we usually wear. So I opted for a look more rock'n roll, with just the touch of glitter and glamrock it takes to ensure and shine.
I'm wearing a blazer metal effect / shiny (one of my big crush) and that I could associate with other looks too (very practical), with I wear a simple black t-shirt but whose writing makes the difference  » Very Karl '(by Karl Lagerfeld), navy blue pants and not black waxed effect that gives a touch more rock (like the jacket) and a pair of black shiny and pointed booties that gives this little pointy touch precisely (haha) and stylish but which is above all comfortable to wear (very important to dance the whole evening)!
                                       ∼ ∼ ∼ ∼ ∼ ∼ ∼
SHOP THE LOOK →Blazer effet brillant/métallique (Size 38) ♦ T-shirt Karl Lagerfeld similaire (Size M) ♦Jeans similaire (Size 38) ♦ Bottillons similaire (Size 40)